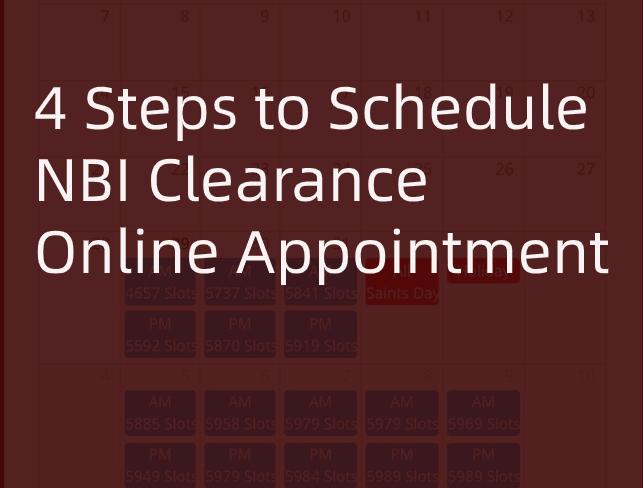 'How do I undertake my NBI Online appointment?' is a question that we have asked or heard being asked often. With so little knowledge on NBI Clearance, scheduling for an NBI Clearance appointment online still seems to be a menace to many people.
Today we dive into this popular question to try and solve people's menace. We are in 2021, and anything to do with the internet, and NBI Clearance shouldn't be a problem. While all our articles are about NBI Clearance, we are yet to cover on how to schedule your NBI Online Appointment. So, here we go. Grab your cup of coffee and read on!
How do you go about the NBI Online Appointment?
Scheduling your NBI Clearance Appointment is a step by step guide that you need to follow if you are to be successful. Before you begin the process, ensure that you have an active NBI Clearance online account. If this isn't the case, you can always refer to our guide on the 'NBI Clearance Online Registration'.
The process is relatively simple, but if you incur any problems along the way, feel free to let us know in the comment section below and we will be more than delighted to get back to you ASAP!
4 Easy Steps to Schedule NBI Clearance Online Appointment
Logging in to your NBI Online account
Applying for clearance
Selecting the preferred method of payment
Visiting the NBI Branch
Step 1: NBI Online Account
The first step entails going to the NBI Clearance official website and logging in to your account. Click on this link or Google search www.nbi.gov.ph online appointment.
Enter your email address and password. The site will then redirect you to your account's main dashboard. Here, the NBI Clearance Online Application Form is displayed.
If it has been a while since you logged in to your account, and in the event, you forgot your password, don't panic. There is a 'forgot Password' button below when logging in. This feature helps you regain access to your account even if you don't have the password. Enter your active email address and a reset link will be sent to your email. You will also be assigned a new password for your account. You can change it any time once you are logged in.
If you forgot the email address that you used to sign up, then your account is as good as gone. You will need to create a new NBI Clearance online account.
If it is your first time creating and logging into the account, there is a personal information application form that you will need to fill. The form contains details such as your name, nickname, place of birth, date of birth, mobile number, parents' names, occupation and religion among other questions. You can now proceed to the next step after filling all these.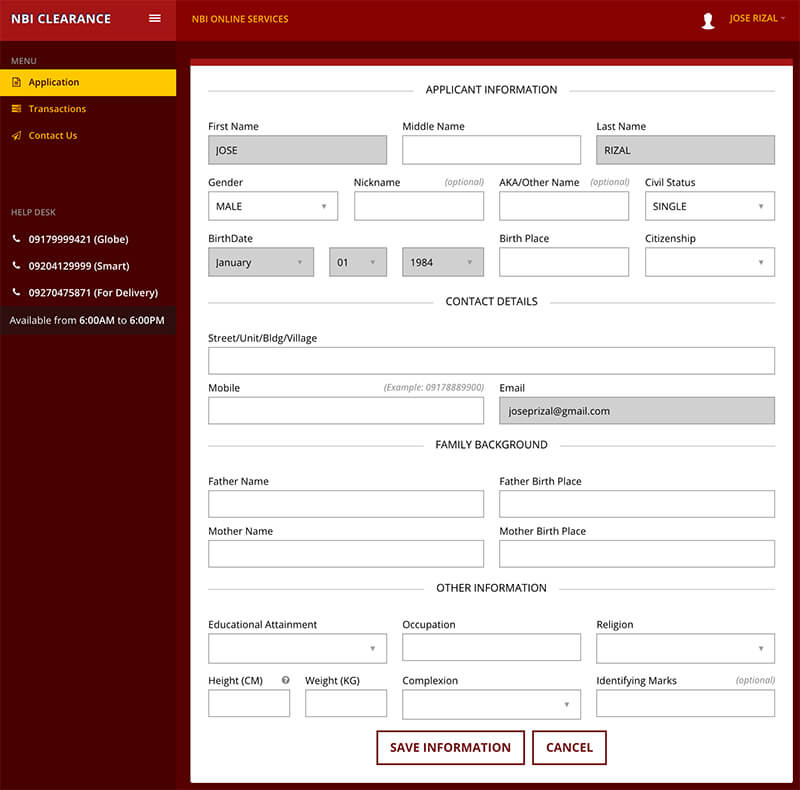 Note that if it isn't your first time logging in, you will not go through the above step. You already underwent it when you were signing in to your account for the first time, remember?
Step 2: Applying for clearance
The next step is to click on the 'APPLY FOR CLEARANCE' button. Doing so will take you to the page where you will schedule your online appointment. This page consists of three sections.
The first page is where you choose the NBI Clearance Branch, date and time that you want to process the NBI Clearance. Choose a date and time most convenient for you, amidst your busy schedule. It is also recommended to go for the NBI branch nearest to you, for obvious reasons.
The second page contains a summary of your schedule. This page displays a summary of the information you keyed on the first page. In addition, the page will show you the pending amount to be paid. This is normally P155 broken down into P130 for the NBI Clearance fee and P25 for the E-Service Fee.
The third and last page showcases payment options for your pending fees. You have five options. You are free to choose any, which is most fit for you.
7-Eleven
ECPay
Bayad Center
Online Banking
Bank Over the Counter Payment
Pay Center Mobile App
Payment Center Outlets
Step 3: Payment for the Process
After you select your method of payment, an NBI Clearance Reference Number appears. Note this number down as it is important. You will use it when paying for your fees. Your NBI Online Appointment will remain pending until you pay the clearance pus E-Service fee. The reference number will also be applicable during the processing of your NBI Clearance when you visit the NBI Branch during the date of appointment.
Check out our article on 'How to Pay for NBI Clearance Via 7-Eleven.'
Step 4: Visiting the NBI Branch
There you have it! You have successfully scheduled for your NBI appointment online. The next step is to visit the NBI branch on the date and time of the day of the appointment. Remember to carry along with you two valid IDs and the NBI Reference Number.
In Summary
Here's a summary of how to go about the entire process.
Log in to your NBI online account. If you don't have one, sign up. There is a 'FORGOT PASSWORD' button for resetting your password in case you forgot your current one.
Click on the 'APPLY FOR CLEARANCE' button in order to begin scheduling for your online appointment.
Choose a date, time and NBI Clearance Branch that is most convenient for you.
Select a payment option for settling the NBI Clearance plus E-Service Fees.
Conclusion
We hope our article on Scheduling for your NBI Online Appointment has shed some insight on you. The process is way similar to that of the NBI Renewal Process. We concentrated more on the part of scheduling for your online appointment. You can also visit our article on 'NBI Renewal Process' to see how that goes.
If we have missed out on anything, or you feel that we got something wrong, don't hesitate to let us know. Meanwhile, you can schedule for your next NBI Online Appointment at the comfort of your home!