NBI Clearance Renewal – As you probably know by now, the NBI Clearance expires after every year and needs to be renewed annually. NBI Clearance Renewal online is the process whereby you need to apply for a new NBI Clearance after your previous one expires. This process is strictly for those who owned an NBI Clearance previously. First-time applicants are not allowed to undertake the process.
NBI Clearance Renewal Requirements
There are two requirements that applicants have to meet in order to be allowed to renew their NBI Clearance:
If they have an expired NBI Clearance issued between 2014 and present
They have an old and unreported NBI Clearance, which was canceled between 2014 and the present.
One of the most important things when renewing your NBI Clearance is that you need to know your NBI Clearance ID Number. The number is found in the actual NBI Clearance. If you are unable to locate or obtain the NBI ID Number, then the process is no longer applicable to you. It is essential that you know your NBI ID Number- we cannot emphasize this enough.
Here is a sample of the NBI Clearance ID Number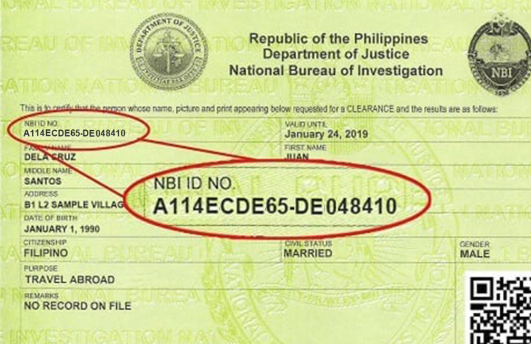 NBI Renewal Door To Door Delivery Service
NBI renewal door to door delivery service had been launched already. Unlike the traditional NBI online renewal process, we do not need to apply for NBI online registration and go to the NBI branch. You can complete the entire NBI renewal online application at home and choose to have NBI clearance delivered to your doorstep.
How to Renew NBI Clearance With Door to Door delivery
Where Do You Apply for an NBI Renewal? Good question. All the NBI Renewals are processed at all the NBI Clearance Branches. You, however, need to set up an online appointment before availing yourself of the premises. Alternatively, there is a quicker and easier option- NBI Clearance Quick Renewal Delivery. Have your NBI Clearance delivered right to your doorstep.
Although the process requires you to pay additional fees for the delivery, it is easier, and you don't have to visit any NBI Branch and face the long queues. You hate those, don't you?
With that, let's get into the actual process. The NBI Renewal online is divided into four simple steps.
Login NBI Clearance Official Website
Fill out the NBI Clearance Renewal form
Payment of the Renewal Fee
Choose NBI Renewal Delivery – Pick up or Door to Door Delivery
Step 1: Login Official NBI Clearance Website
Before beginning the entire process, ensure that you have a laptop or smartphone and a stable internet connection. The process is simple if you follow our guidelines step by step. You shouldn't incur any problems. The first step is to visit the NBI Clearance Official Website. Click on this link- clearance.nbi.gov
The NBI Clearance Official Website is designed to handle all issues dealing with NBI Clearance. For the first-timers who are visiting the website, we're certain that you don't have an account yet. You'll need to sign up for one. The process isn't a difficult one. You can check out our article on 'How to Apply for an NBI Clearance Online in 2022' for a detailed guide on how to undertake the process.
For those who already have an account, the process is easier for you. Check for the 'NBI Clearance Online Renewal' on the website's page and click it.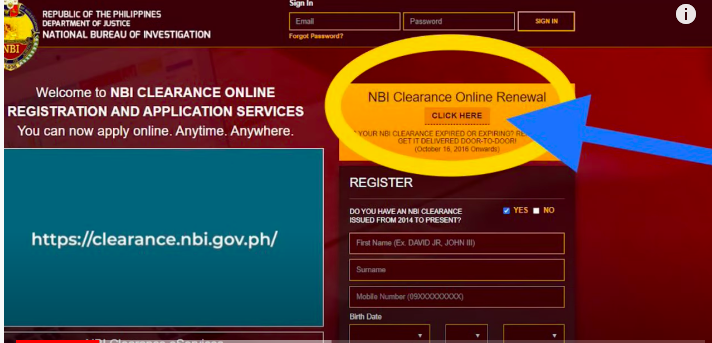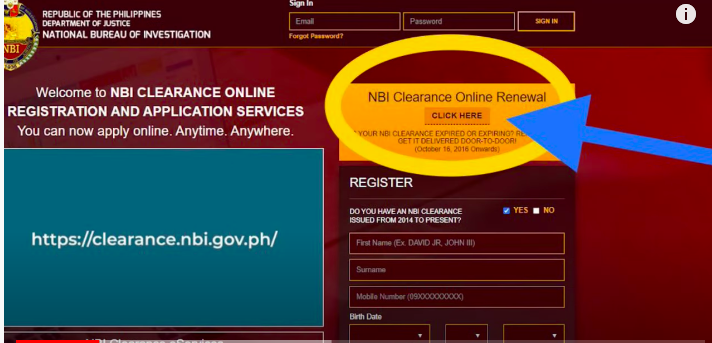 Step 2: Fill out the NBI Renewal Form
Afterward, a small window will appear asking for your personal info as below:
Old NBI ID
Mobile Number ( for SMS notification)
First Name
Middle Name
Last Name
Birthdate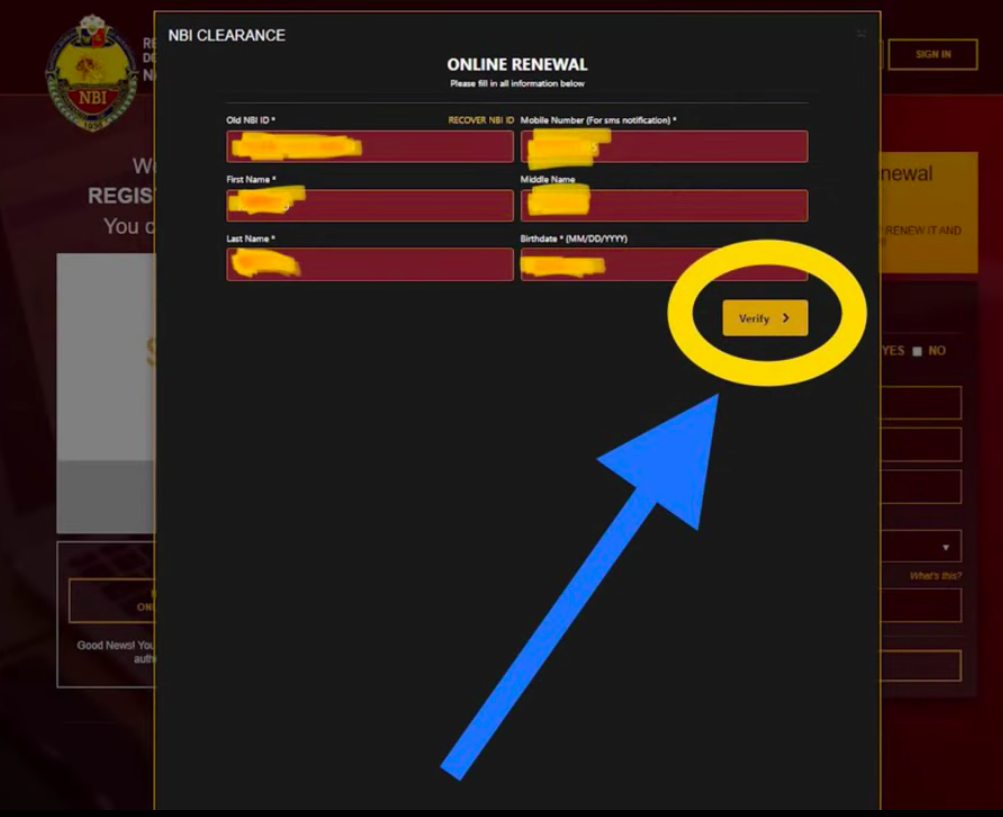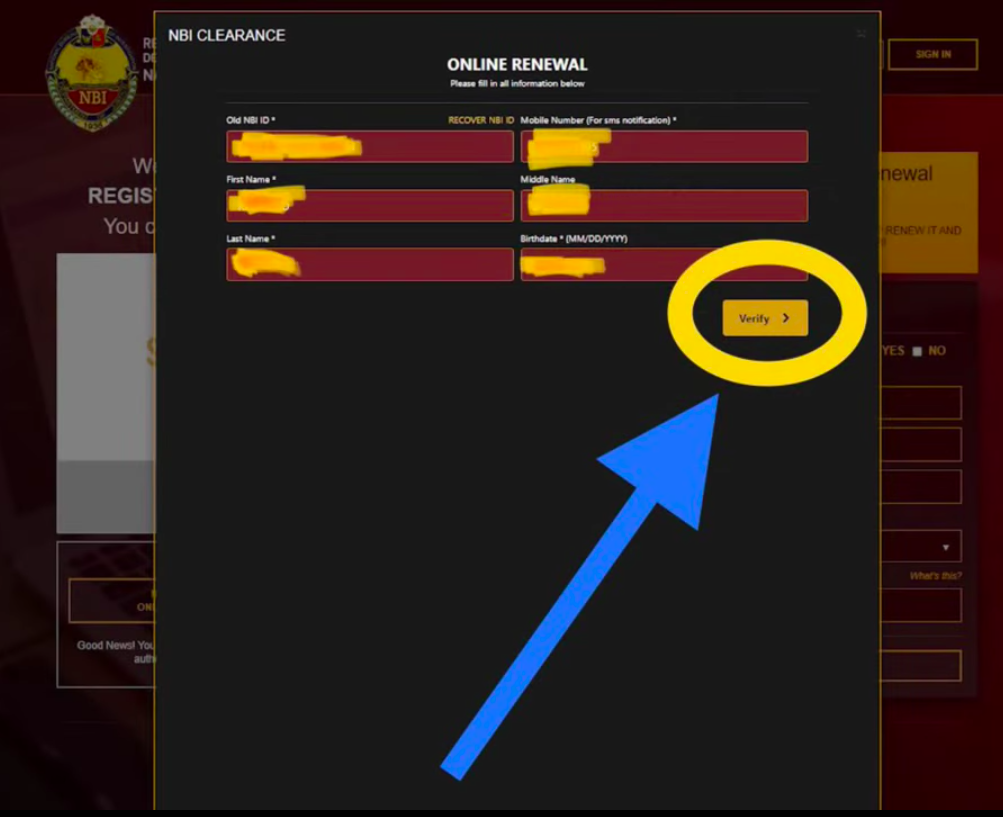 Please fill out the form correctly and click the button "verify" button to continue.
Ensure the NBI old ID Number was issued between 2014 and to present. If the ID Number was issued before 2014, then there will be an error. Confirm a sample of the NBI Clearance ID Number in our pic above.
Then the verification options page will appear after you fill out the form. You can select any of the below options for verification:
Mother's Information
Mobile No. (Used during registration)
Email Address (Used during registration)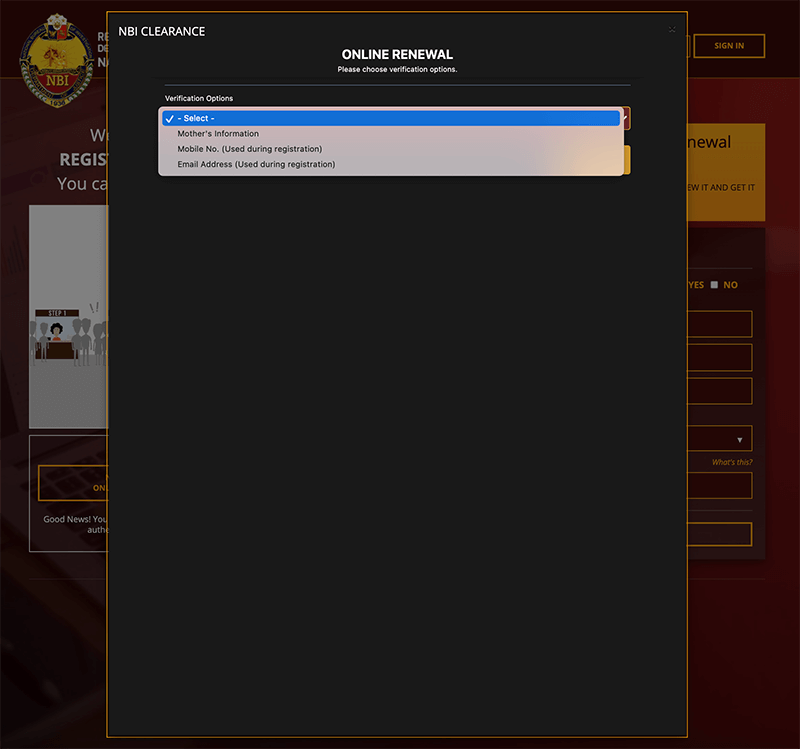 Step 3: Payment of the NBI Clearance Renewal Fee  
The next step will be to pay for your NBI Clearance Renewal. You will first enter your NBI branch and then proceed on to select your payment method. You have six payment options:
ECPay
Bayad Center App
Bayad Center
7-eleven
Mobile Payment. You can use Gcash.
Online Banking. The current bank that partners with NBI and allows for transactions is Union Bank EON, BPI Express Online.
Over the Counter Bank Payment. You can opt for China Bank, Lank Bank, and BDO, among others.
Choose an option that is most convenient for you. Once you have made the payment, counter-check with your account to see if it has been updated. Note down the reference number, or alternatively, print the entire NBI renewal Clearance online application form.
The total amount to be paid (as of 2022) is Php 355. This includes Php 330 for the NBI Renewal and an additional Php 25 for the E-payment services. This amount is slightly higher than what you'll pay when applying for a new NBI Clearance. This is because the NBI Renewal Online Delivery Express is included.
Step 4: NBI Renewal Delivery- Pick up yourself or NBI door to door delivery
After the payment page, you will be led to the next page as below: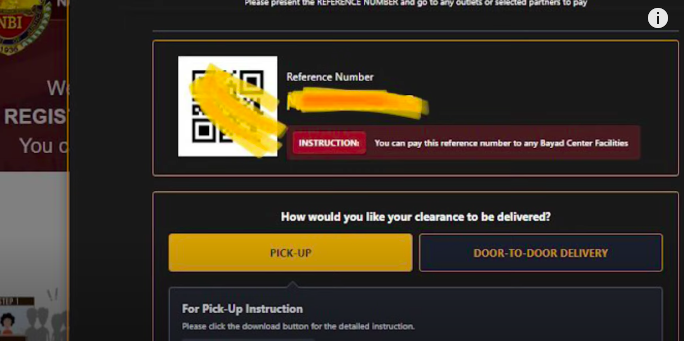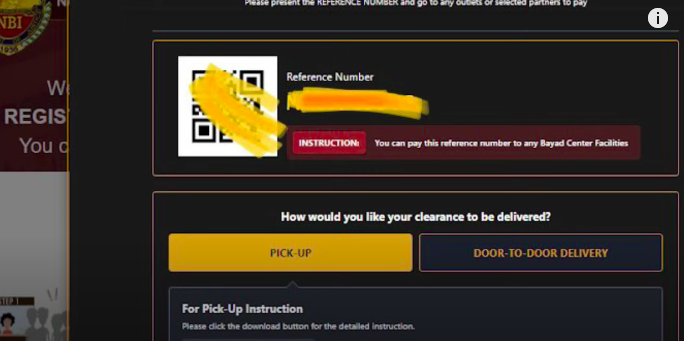 You can choose to pick up the NBI clearance yourself or choose the door-to-door delivery service. Here we will click the " DOOR TO DOOR DELIVERY" button to proceed.
Then you need to fill out the delivery info for NBI to send the clearance to you. We don't need to schedule an Online Appointment and avail ourselves of an NBI Branch on the stipulated date and time. The NBI Clearance will be delivered right to your doorstep. That's very convenient, isn't it?
FAQ about NBI Clearance Renewal
Q1:How much is the payment for the NBI door-to-door delivery?
The NBI delivery fee is Php 207 including the service fee of php7.
Q2:How long will it take for my NBI Clearance to be delivered?
It will take 3 -7 working days or 7-10 working days which up to your options to pick up new NBI clearance from NBI office.
Q3:How much is the renewal of NBI clearance 2022
The total fee is php335 including php25 for the service fee.
Q4:Can I renew my NBI Clearance without an appointment?
Yes. You can renew your NBI Clearance with door-to-door delivery so you don't need to schedule an appointment anymore.
Q5:Can I renew my nbi clearance online?
The answer is YES. Now you can stay at home and renew your NBI clearance online with door-to-door delivery.
Q6:How can I check my NBI clearance delivery status?
Call the NBI office at 8523-8231 local 5509 or send SMS to 09150656899 (Globe) or 09478648747 (SMART).
Q7:How to avail of the door-to-door delivery?
Just choose the "DOOR TO DOOR DELIVERY" option when renewing your NBI clearance online.
Conclusion
The whole process from when you pay for your NBI Renewal to when it is delivered to your doorstep should take between 5 to 10 working days. We hope that you have mastered the steps carefully, and you won't incur any problems. If you have any questions on how to renew the NBI Clearance renewal, feel free to leave your questions and comments below, and we will reach out ASAP!