NBI online registration – The government has now ensured that you can register your NBI Clearance online services from the comfort of your house. The process is long but doable. While so many of our articles have touched on applying for NBI Clearance, we cannot get enough of sharing the knowledge.
One of the most-searched-for items in Google in Singapore is how to register for NBI Clearance online. Having an annual validity, registering for the NBI Clearance becomes compulsory for all Filipinos. The fact that you are reading this article means that you also have the same problem. Well, we will guide you through a step-by-step guide on how to tackle the whole thing.
What is NBI Online Registration?
NBI online registration means that you can register an account with NBI clearance online, set an appointment, and pay the fee for NBI clearance by GCash. So that people are not need to wait for a long length of the process's queue to get an NBI clearance. Please note that If you register NBI online, you agree to the storage and use of your personal information for the investigation of derogatory records under the authority of RA 10867.
For first-time job seekers applying for NBI online registration, President Duterte has signed Republic Act 11261, which waives document fees for first-time job seekers. It applies not only to NBI clearance but also to other government agencies in the Philippines.
Now let's go to visit the NBI Clearance website and start applying for NBI online registration. Fill in the form with your personal information according to the instructions.
Requirements for NBI Online Registration?
To register for your NBI Clearance online, you require the following:
A valid email address
A valid Identification Document
An application fee
Before acquiring your NBI Clearance, you are required to submit a relevant document to verify your identity. The following government-issued documents are regarded as valid IDs when registering for your NBI Clearance:
Voter's ID
Philippines Passport
Driver's License
School ID
Senior Citizen Card
NSO Authenticated Birth Certificate
Tax Identification Number (TIN) ID
Philhealth
Alien Certificate of Registration
GSIS UMID
Postal ID
PRC License
Social Security Service (SSS) ID
How To Apply For NBI Online Registration??
We thought you'd never ask. The process is divided into six different steps. Each step needs to be followed strictly if you are to be successful in your quest. Nonetheless, nothing is difficult in the process. The only step where you might experience hitches is in the final step when you get a HIT Status. This is, however, explained in our article 'NBI CLEARANCE HIT STATUS – Reasons of NBI Hit in Getting Clearance.'
Without further ado, here are the steps to follow
Register for an NBI online account
One Time Password
Fill in the NBI Online Application Form
Apply for clearance
Payment for the Registration
Picking up your NBI Clearance
Step 1: Online Account Registration
Visit the NBI Clearance Official Website. Click on this link or Google search www.nbi.gov.ph/ online renewal to visit the NBI Online Application website.
This process is similar for first-time applicants and subsequent applicants. The only difference between the two lies in the payment. The payment for first-time applicants is free while a small fee is charged for the subsequent applicants.
Fill in the personal information being asked for. If you are a new applicant, tick the 'NO' icon when asked whether you have a previous NBI Clearance issued between 2014 and present (as shown in the pic below).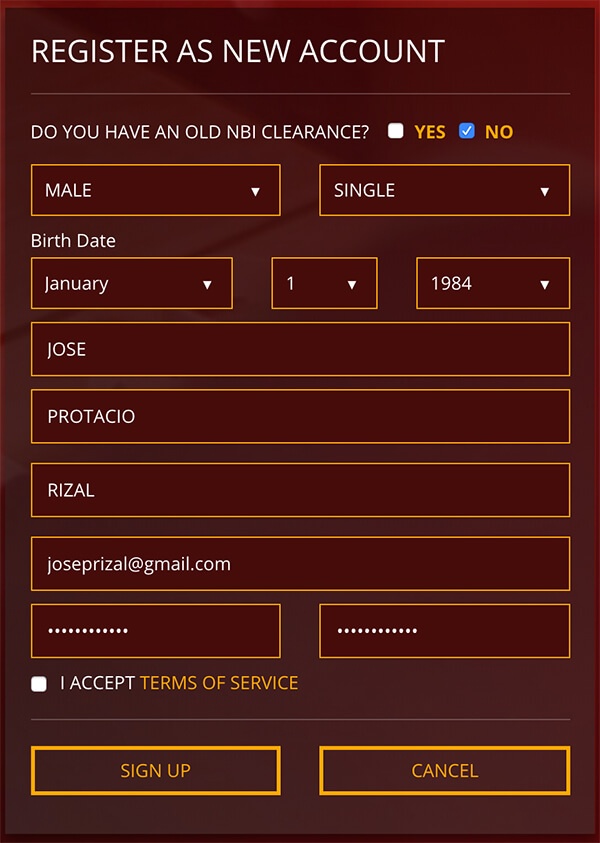 If you have your old NBI Clearance, tick on the 'YES' box then proceed on to enter your old NBI ID Number. When done, click on the 'SIGN UP' or 'PROCEED' buttons to go on to the next step.
Step 2: One Time Password
A One Time Password (OTP) will be sent to your phone or email after clicking on the 'PROCEED' button. It is a six-digit figure code and it looks something like this.
Step 3: Filling in the Application Form
Once you are in, you'll be taken to your account's dashboard where you will be prompted to fill out an application form. Personal details being asked for include: full names, civil status, date and place of birth, parents' names, occupation and religion among others. The information you fill in will reflect on your NBI Clearance. So make sure all of them are correct.
There is an 'EDIT' button after you click on 'SAVE'. This allows you to change this information in case of an error. The only information that you cannot edit is the name, email address used and date of birth. All other information entered can be changed or edited.
When you're done with this, click on the 'SAVE' button found at the bottom part of the page. You can now proceed to the next step.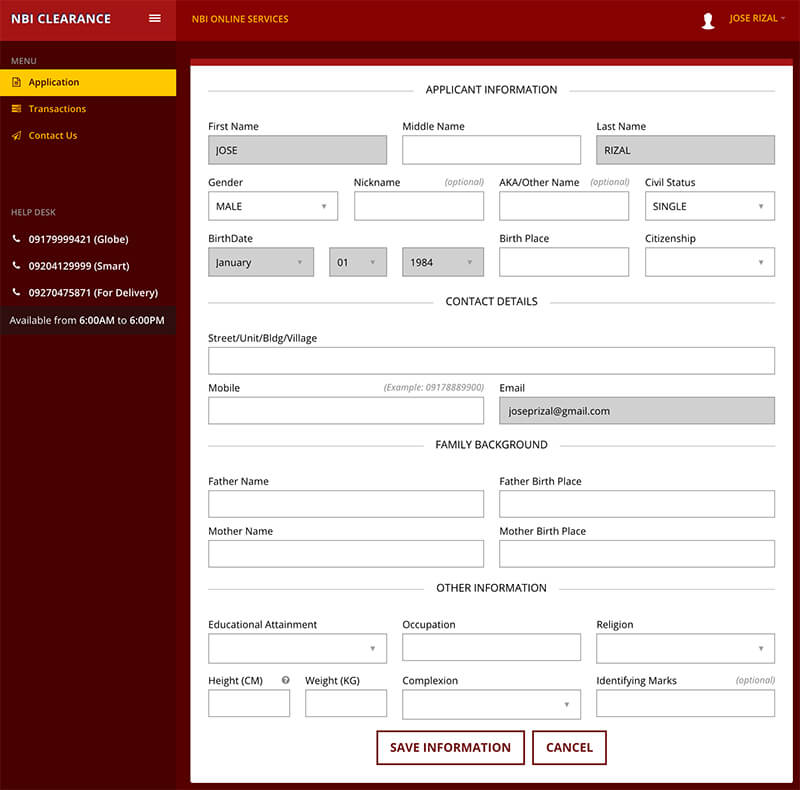 Step 4: Apply for Clearance and NBI Online Schedule
The third step is to schedule an appointment online. We have an entirely different article on this- NBI Online Appointment. We have discussed it deeper in more detail. You can check it out for more information.
In this step, you are required to schedule an appointment online prior to visiting the NBI Clearance Branch. Click on the 'APPLY FOR CLEARANCE' button found on the right side of your desktop. Clicking it will pop up a confirmation window asking you the type of ID and ID Number that you'll present to the NBI Clearance Branch. Fill the info and press 'I Agree'.
You will be shown a long list of all the NB Clearance Branches in the country. Choose the one that is nearest and most suited for you. After that, pick a date and time that you will visit the NBI Clearance Branch. The dates available are colored in blue.
Step 5: Payment for the Registration
After scheduling the appointment, the next step is to pay for the registration. Note that your registration will not be complete without paying for it. There are six different method options to choose from:
7-Eleven
Bayad Center
ECPay
Pay Center Mobile App
Payment Center Outlets
Online Bank
Choose the easiest and most convenient payment option for you. Bayad Center is the most popular with the most number of branches spread across the country. 7-Eleven, on the other hand, is the fastest and easiest option.
After choosing the payment method, a small window will pop up. Press on its 'Proceed' button. Another window will once again pop up showing you your NBI Reference Number. Take note of this number as it is important. You will present it to the NBI Clearance Branch for your clearance to be processed.
Step 6: Picking your NBI Clearance
The last step involves you physically visiting the NBI Clearance Branch and picking your NBI Clearance. Here the processes include taking your photo and biometrics before being handed your NBI Clearance. The process is rather long and we have it detailed out in our article 'NBI CLEARANCE QUALITY CONTROL INTERVIEW- HOW TO PASS IT!'
FAQs About NBI Online Registration
How much is NBI online registration?
The total fee is Php 155 which includes the NBI clearance fee is Php 130 plus the Php 25 system fee for the e-payment service.
What is the link of NBI online registration?
Here is the link:https://clearance.nbi.gov.ph/
Do I have to pay the NBI clearance fee as a first-time jobseeker?
You don't need to pay the government document fee due to the First Time Job Seekers Assistance Act.
Conclusion
Congratulations! You have successfully undergone your NBI Clearance Online Registration process. There is nothing difficult about it. We strongly believe that you'll not incur any difficulties. If this is the case, however, let us know in the comment section and we'll be more than glad to help.