If you just tied the knot, congratulations! Now it's on to change the last name in your NBI Clearance. Women who wish to use their married names in their social security, driver's licenses, or IDs need to update their NBI Clearance before they file other licenses. You can also change your Philippine Passport, but this is often more difficult and costly than changing your NBI Clearance. The cheaper, faster, and much more recommended method is changing your NBI Clearance first.
In this tutorial, we'll guide you through the entire process of how to change the last name in NBI Clearance for married women. The process may seem intimidating, but if you follow our guide carefully, you will notice that there is nothing difficult about it. Be sure to leave your questions or comments in the comment section below, and we'll be sure to get back to you.
With that, let's check out how to go about it.
Requirements for NBI Clearance for Married Women
The requirements for getting NBI Clearance for married women are similar to the normal application. Prior to making your NBI Clearance appointment, ensure you have all the required documentation, otherwise, you'll be forced to cancel the appointment and schedule another one.
Here are the requirements for your NBI Clearance application. You will notice that they are similar to normal applications.
Once you gather and complete all these requirements, you are good to go. The process for changing your last name in the NBI Clearance can now begin.
6 Steps to Change the Last Name from Single to Marrie in NBI Clearance?
Changing the last name in your NBI Clearance is not classified as a renewal application but rather a new application. This is because there will be changes made from your old NBI Clearance. When beginning the process, you'll need to create a new NBI Clearance account (with a new email address). Since your old email address was used to create the old NBI Clearance.
The process contains six steps:
Step 1: Register a New Account
Visit the NBI Clearance website and register for a new account. Change your maiden name to your husband's last name. Check to tick 'NO' at the top section asking whether you have an old NBI Clearance.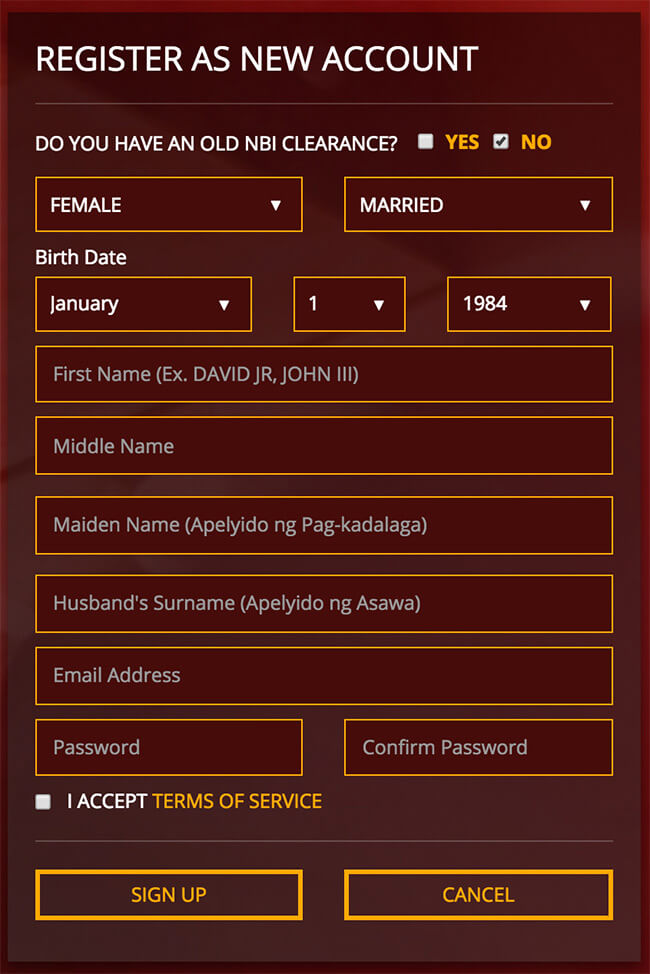 Step 2: Personal Information
After signing up, the next step will be to fill your personal information. Questions asked are inclusive of name, gender, AKA/Other name, date of birth, place of birth, contact details, and family background questions. When all is done, click on save information at the bottom page.
Step 3: Scheduling an Online Appointment
When this is done, the next step will be scheduling an online appointment. You can choose the date and time from the calendar present. The days available are colored in blue. Choose the day that is most convenient for you.
Step 4: Making the Payment
After scheduling the appointment, you will need to make the payment. This is the last step of the registration. The payment methods available include:
Choose the method that is most convenient for you. When the date of the appointment arrives, ensure to avail yourself to the selected NBI Clearance Branch. The Branches have adopted a 'No Appointment, No Entry' policy. Without an appointment, you will not be served.
All applicants are, therefore, advised to register in advance to avoid any delays.
Step 5: Finger Print and Photo Capture
Once you are in the vicinity, your passport photos and fingerprints will be taken. This is a new application and so your new information will have to be recorded in their database. Crowds and long queues are a common sight in the NBI Clearance Branches. The photo capture and biometric sections are normally the most crowded. Be patient, join in the queue, and wait for your turn.
You may be required to show the NBI Clearance Personnel who is verifying your info that you are there to change your last name. Present them with your marriage certificate as proof.
When the fingerprinting, photo capture, and data verification processes are over, what awaits is to claim your NBI Clearance at the printing section. The personnel will let you know whether you will receive your NBI Clearance on the same day, or whether you have encountered the HIT status. If you are unlucky and this is the case, you will be asked to come back on another day, as indicated in your receipt.
Conclusion
There you go! A double congratulations on getting hitched and successfully changing the name in your NBI Clearance. Changing last name in NBI Clearance for married women isn't a difficult process. The only stage that you might encounter hiccups is on the last step in case you get a HIT status.
We have stayed true to our course and provided you with all the information, and a step by step guide on how to change your name in NBI Clearance. Let us know if you have any questions or encounter any problems in the process. Good luck and happy marriage life!